Trip to Iceland August 21 – Sept 4 2017
<![if !vml]>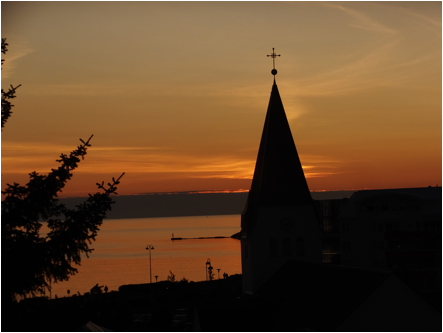 <![endif]>RogerÕs sister, Lola, and her husband Dale, dropped us at the airport in the afternoon of August 21 for our Icelandair flight. We ate supper at the airport and our plane took off around 8 pm for our 6-hour flight to Iceland. It was a smooth flight. Then we walked out to get our luggage, exchanged about 300 US dollars for about 3,000 Kroner, and walked to the bus to get a ride to our rental car. We had about an hour wait while they washed and fueled it and then had to change the oil. We rented through ŌSixtĶ and based on our experience, we would recommend another rental company.
We drove to Hafnarjordur north of the airport, and we discovered that most stores donÕt open until 11:00 am. We walked around and Joan had a cookie while Roger got a $5 cup of coffee. That took enough time that we could get an Icelandic Sim Card for the phone and a few groceries. We ate at Islenska Flatbakan – a pizza place. It was very good. We had reservations for various places around the island made through Airbnb. Our first was a cute apartment on the second store of an old house on a narrow one way street not far from the harbor and several restaurants. It had a balcony overlooking the harbor, and thatÕs where the first photo was taken. For supper we ate at Gamla Vinhusid and had steak and cod that were excellent. Food is very expensive, especially if you eat out, but we had some of the best meals weÕd ever eaten.<![if !vml]>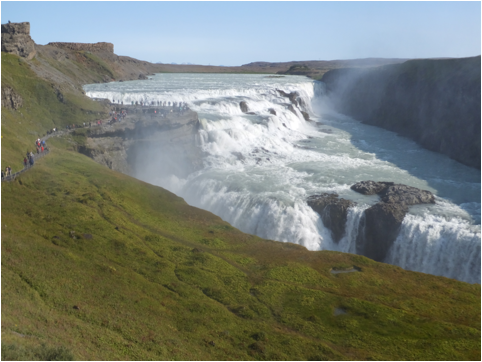 <![endif]>
On Wednesday August 23 We headed east on #1 toward Vik and then north to Gullfoss. The GPS got us off on to back road that was gated – so we had to back track and ended up seeing the Geysir geothermal area first.
Strokkur, an active geyser went off three times when we were there. We ate sandwiches there, then drive north to Gullfoss – it is a tremendous waterfall – wide, high, and thundering with a huge water flow. After many flights of stairs we were able to get up right beside it on the rocks.
<![if !vml]>
<![endif]>We went to Thillenger, an historic Icelandic site where the first government was formed around the year 900. It is also the place where two tectonic plates meet and have been pulling apart, leaving a rift crack in the rock. We walked down into the rift on a pathway – we could have gone all the way down into the valley. ItÕs where the North American and European plates meet. For supper we walked down to the harbor area and ate at ŌVonĶ where we had a cod and a halibut meal that were terrific.
Thursday August 24 We went up to Akureyi by way of the 6 km tunnel (3.5 miles) that runs under a fjord. There were a lot of sheep and some horses and a lot of hayfields. As we moved up the fjord, the hills became higher with some stands of pine on the slope and hidden waterfalls. Further on, there was some snow on the tops of the hills as well as swans on little ponds & flowers.
We stopped at the Seal <![if !vml]>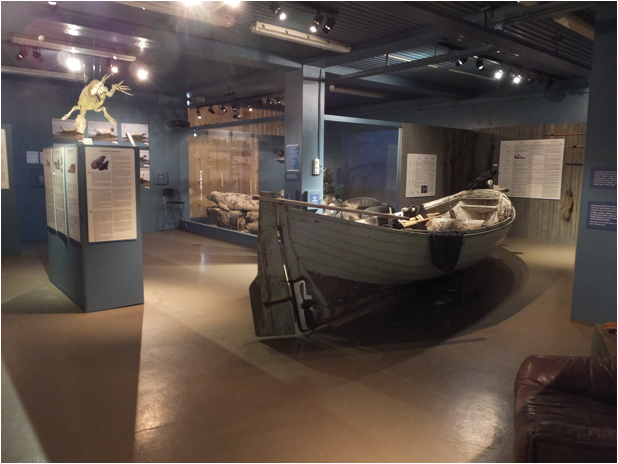 <![endif]>Center and looked at the displays and a video.
Driving on a gravel road along the fjord, we stopped to look for seals, but had no luck. Further on we ate at the Geitafell Restaurant and had trout cooked on a grill because the electricity went off before it had been cooked. It was very good. Luckily, we had enough Kroner to pay for it since our credit card would not work without electricity!
<![if !vml]>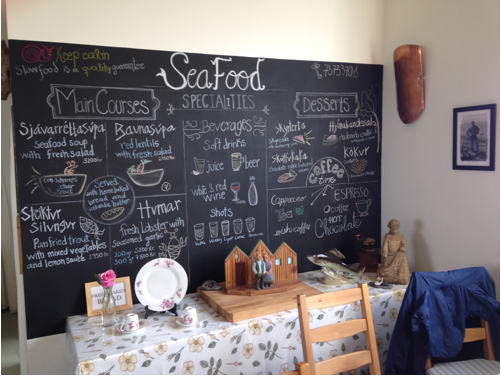 <![endif]>
We continued to drive around the peninsula on bumpy, narrow gravel roads until we reached #1 again. The road goes around the highest mountains and on the shoulder of others – we were above a cloud bank at one point. We arrived at our Air B&B at around 4:30, checked in and went downtown for supper – soup and a sandwich.
Friday August 25
The day started as a chilly, cloudy day with fog and low hanging clouds in the mountains. We headed toward Myvtn, but ended up on the wrong road, so our trip got longer as we back tracked to the right one. As we headed up the mountain there was a black sheep right on the road and Roger had to stop and honk at it! The road was covered in a thick cloud for quite a distance.
<![if !vml]>
<![endif]>
We stopped to see Godafoss Falls – it is many different falls with a tremendous amount of water going over it. We walked along the river full of rapids on the way up to the falls. As we stood on the overlook we were misted quite heavily from the falls.
Heading east we went to the Myvtn geothermal area around Lake Myvtn which is 22 miles around. This area was created by a l<![if !vml]>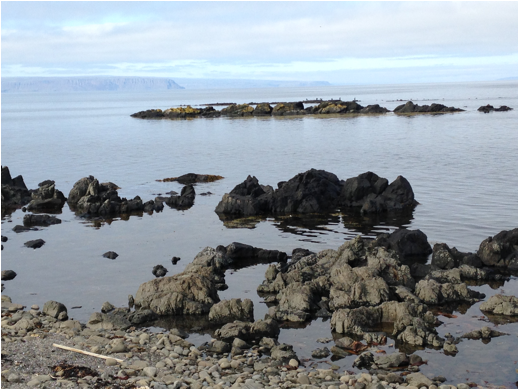 <![endif]>ava flow about 2,200 years ago. The sky cleared and it was a cool, pleasant day.
There was a lot of black lava rock fractured all around in the next area. Next came an area where there were lava rock pillars at the lake shore near Hšfši.
We walked the 2.5 mile Kirkjuveguar trail in the Dimmuborgir area. There were large bizzare formations of lava amid small trees. One was called Kirkjan (church) -- it formed a triangular roof line and had a large cavern inside with openings at both ends – it was an archway formed by a lava chute.
<![if !vml]>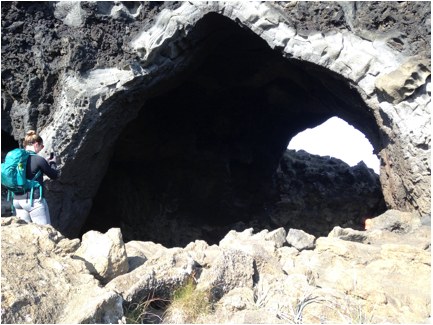 <![endif]>
It was noon when we got back to the car, so we headed to a restaurant nearby and it wasnÕt serving because the power in the area had gone out. That made two days in a row!!! So we headed back on #1 and tried another restaurant that did have power.
We went to the Airbnb for a while and caught up on our journal, then went to NOA a seafood restaurant near us. <![if !vml]>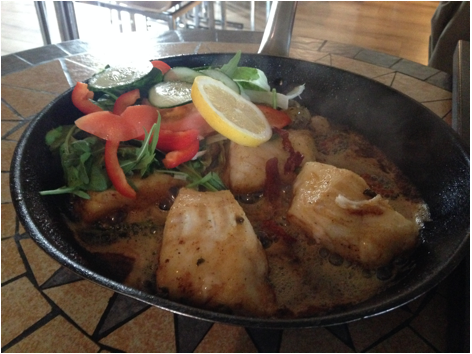 <![endif]>The pan-fried cod was wonderful. The pan was set near the table and we served ourselves. It was very nicely furnished as well.
Saturday, August 26, 2017
After breakfast we relaxed at the Airbnb until we could go to the Akureyri Artic Botanical Garden. We had a hard time getting there due to a closed street. It is a large garden and had a lot of trees, shrubs, and blooming plants – several we had never seen before. It was cool and overcast with a mist. For lunch we went to a restaurant in the mall and did some looking around there.
We then headed up the fjord to the Lauf‡s Farm Museum. It is a very large sod house (1860Õs) with a total of 12 rooms all connected together by dark corridors with walking stones on dirt floors. The rooms themselves had wooden floors. It was used until 1932. The roof and side walls were sod and the fronts were wood.
<![if !vml]>
<![endif]>
There was also an 1865 church with a beautiful pulpit (1698) and alterpiece. There was a modern gift shop where we purchased a Iceland hat, rhubarb jam, and a puffin ornament. While we were there a black sheep got out of the fence and had to be chased away so it wouldnÕt get up on the sod roof.
<![if !vml]>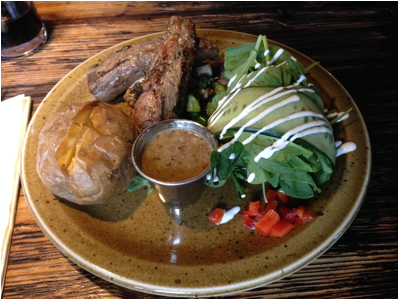 <![endif]>
We relaxed in the afternoon and went for supper in the rain to the restaurant on the waterfront called Bryggjan. Great steak and roast lamb.
Sunday, August 27, 2017
Today we left early under cloudy skies that cleared as we drove over the mountains toward Egilsstadir which is near the eastern coast of Iceland. We drove along the southern shore of Myvatn and stopped at the store at Reykjahlio for some food and gifts. We walked around at the Hverir area - it is a large geothermal field, full of bulling mud cauldrons and hissing steam vents.
<![if !vml]>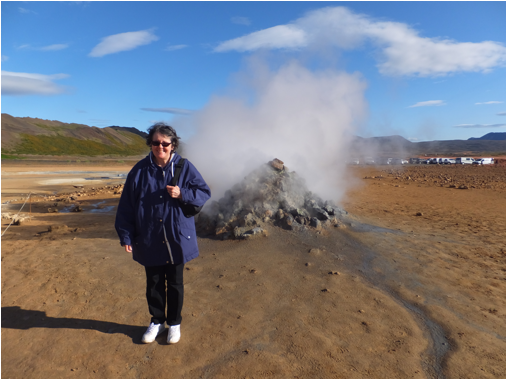 <![endif]>
A little further east we drove up into the Leirhnjukur lava field. To get there we had to drive past a large plant harnessing the geothermal energy. They made a tunnel of pipes for cars to drive under. We walked about 3 miles up into the lava and cinder field and back down.
Heading east we passed through some mountains that were completely bare of vegetation – they looked like a moon scape. Very barren of all life. Further on there were some areas with green and e<![if !vml]>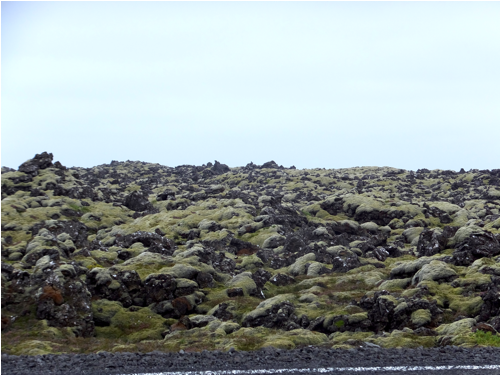 <![endif]>ventually we came back to tundra vegetation. On our way we spotted a beautiful waterfall along the road – no sign, just a turn out.
We walked up the steep path to see if better. It fell down in two drops from a mountain ridge. There were a few other very thin falls doing the same thing – this one was large.
We ate supper at CafŽ Nielsen – we ate upstairs in what was once a house. Roger had cod with a salad and sweet potatoes and I had deep fried shrimp with rice and a salad – Joan was surprised to see that they were tiny shrimp, so she had more batter than shrimp.. <![if !vml]>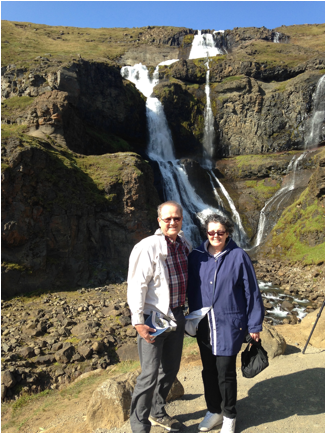 <![endif]>
Monday, August 28
It was a cloudy day here with light rain / drizzle. After breakfast we headed south to explore the villages on the fjord Reydarfjordur. The scenery was spectacular – high mountains, green vegetation, and many high waterfalls coming down the mountains.
<![if !vml]>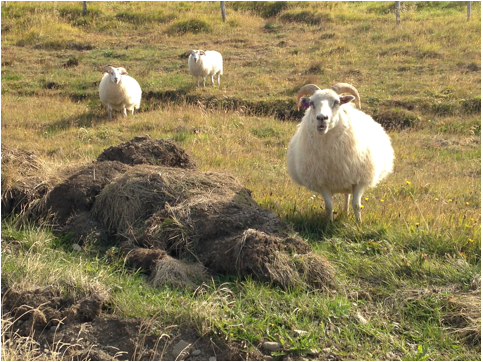 <![endif]>There were sheep grazing too. We drove through the first village, Reydarfjordur and headed east to the second, Eskifjordur. We stopped at a wonderful turn out with a view of the fjord and huge rocks at the shore. The mountains reflected into the water. We drove to the village at the oceanÕs edge - Neskaupstedur. Part of the road was a really steep, curving road with only snow posts along most of it. When we got higher up there was a long tunnel that was one way. There were shallow pull outs if you happened to meet a car – thankfully we didnÕt.
<![if !vml]>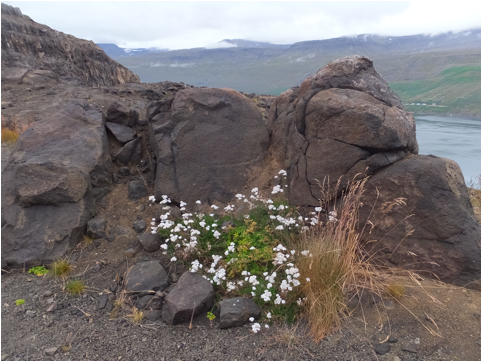 <![endif]>
We drove through Neskaupstedur to the end of the road where we parked and hiked a cliff top trail with wonderful views of the ocean, cliffs, wildflowers, and birds. Some birds flew very close to us – both below and above.
It started to rain in the middle of the trail, so we came back and headed down the mountain, back through the tunnel, and back to Eskifjordur where we had lunch
They went back to Eglisstadir. After a short rest we walked in the wooded area across the highway from our B&B. We ate supper at Salt, a restaurant in downtown Eglisstadir. Joan had steak with sweet potato fries and Roger ate ŌTandoor chickenĶ with rice and salad.
Click here for Iceland, Part 2: http://rogerwmanderson.com/Iceland2.htm