Iceland, August 29-September 4, 2017
(Part II)
<![if !vml]>
<![endif]> Tuesday, August 29
It was overcast with mist and light rain as we headed out. We had a long day on the road from Eglisstadir to west of Vik. Heading down Highway 1, we decided to take the shortcut off on Highway 939. It was bumpy gravel with puddles. We were treated to spectacular scenery – high mountains with rivers, stream, waterfalls, grazing sheep, etc. There were times that the road was so steep ahead that you couldnÕt see where you were going until you crested the hill and started down. When we got to #1 again we <![if !vml]>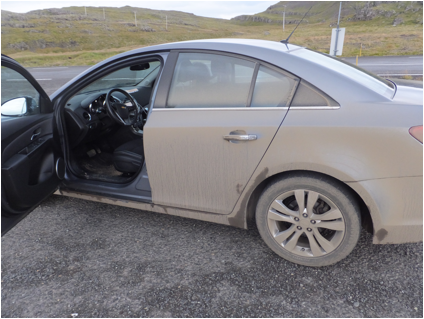 <![endif]>had a car that looked like it was given a mud bath. Roger was able to wash a lot of it off at a gas station with a hose.
<![if !vml]>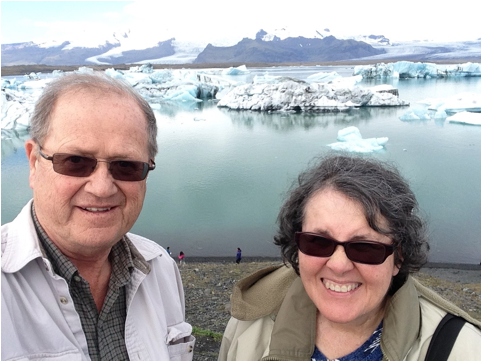 <![endif]>The sun came out and we headed along the fjords amid the mountains until we got to Jškuls‡rl—n, a glacial run off lake that was filled with icebergs from the glaciers behind it.
<![if !vml]>
<![endif]>Really an amazing sight! Further down the road we stopped to see a smaller similar lake with icebergs and saw the edge of the glacier they were calving from. There was a cold wind from the glacier that almost blew us over sideways.
We ate a sandwich lunch there. Further along #1, we saw many glaciers with streams and rivers coming from them, then there was a big area Eldhraun, which was the glacial sudar – the remnants from run off from the glaciers. Some of it was very flat black sand, some of it lumpy rocks covered with what looked like green mold / moss, some was grassy, and some was wildflowers. It was about 94 km across.
Shortly after the sudar we came down near the coast again and returned to the mountains. We found our B&B west of Vik called Hvamb—l. It is very new and modern – very cute, but no TV or couch. There is an ocean view in front and mountains close by. For supper we had great pizza in town at the Sudur Vik Restaurant.
Wednesday, August 30
<![if !vml]>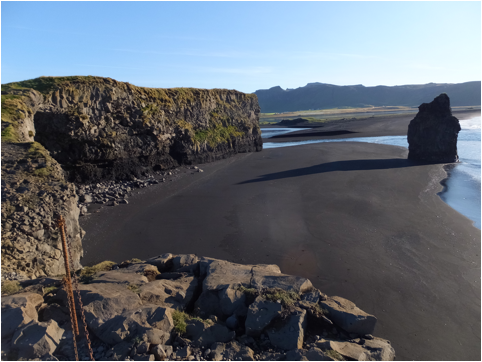 <![endif]>We started our day early under sunny skies heading slightly west to #218 to see Dyrholaey. It is a high headland with a lighthouse and sea cliffs and birds. The road had hair pin curves and was very bumpy ! We were hoping to see puffins – there were Arctic terns and other birds.
<![if !vml]>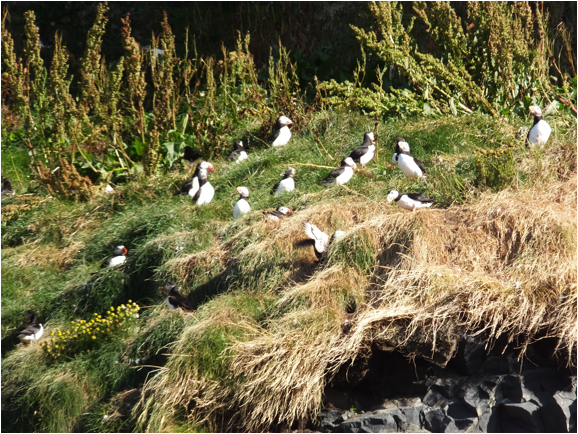 <![endif]>We then went to the black sand beach just a little east and walked around a cliff there and saw many puffins and terns! The puffins were high on the cliffs and many were flying out to sea for the day.
Next we went west to see the Skogasafn folk museum. There were three floors of very nicely displayed artifacts. Most of them were collected by one man. There were also many outside buildings: a church, a school, two homes, and a sod farm. It was very well done and interesting.
<![if !vml]>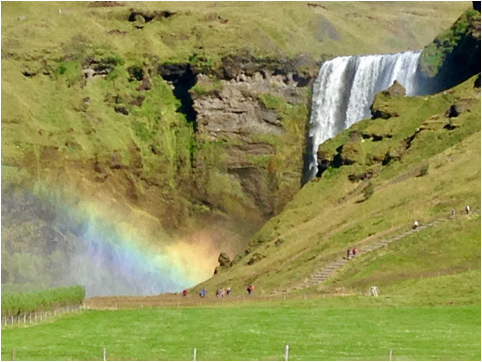 <![endif]>
Not far away we went to see Skogafoss Waterfall, but there were too many people, so we ate lunch at a restaurant there - having Icelandic soup (lamb) and bread. The sun was in perfect position to capture a beautiful rainbow.
<![if !vml]>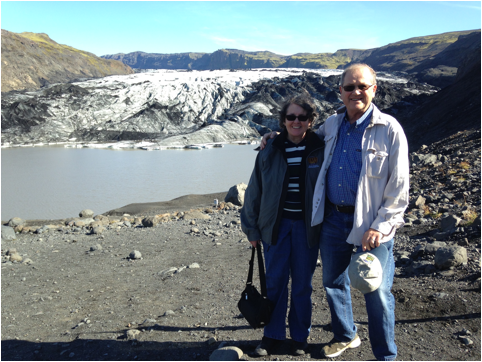 <![endif]>
Next we drove up to a glacier, Solheimajokull, and walked as close as we were allowed to go. There were icebergs in the lake below it and lots of people with guides walking up on to it.
<![if !vml]>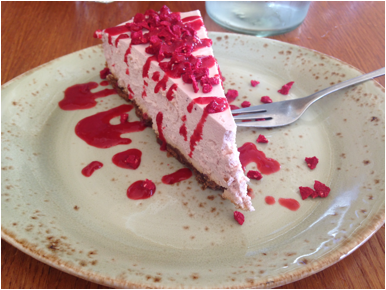 <![endif]>We went into town for gas and stopped for a treat: caramel apple pie and Skyr berry pie. Skyr is a kind of Icelandic yogurt. Both were delicious!
<![if !vml]>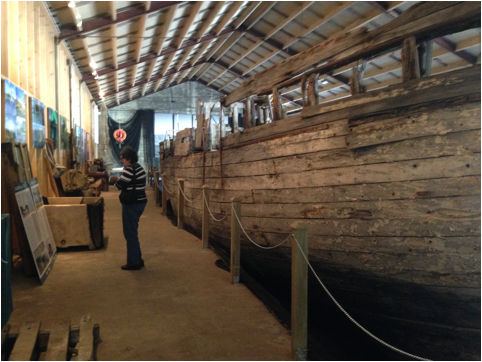 <![endif]>Across the street was a museum housing an old supply ship and other aritfacts. A video with old footage showed how they brought goods to the shore in large row boats from the supply ship in the museum. They had to do this because the south coast had harbors – it is all shallow.
Thursday, August 31
We left in light rain, leaving Vik and heading to see the Skogafoss waterfall. It had an incredible flow – the mist was rising very high and blowing toward us. As we headed back to the car it started rain harder.
<![if !vml]>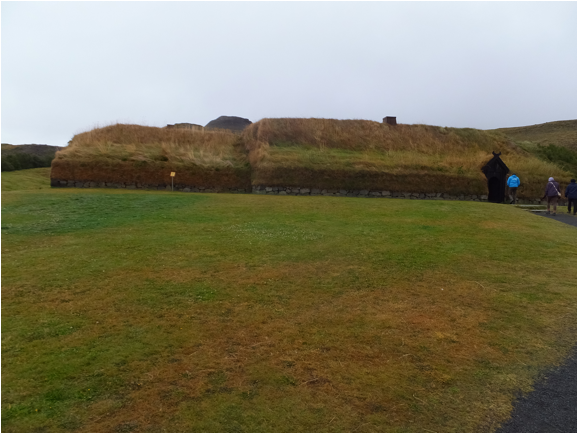 <![endif]>Further on we went north on #30 to #32 and visited the Viking Village or Pjooveldisbaerinn. It was a huge long house that was reconstructed from measurements of the remains of a long house found nearby. They used only methods used during that time period. The roof was wood covered in flat rocks that were covered with sod. It had five rooms and a separate church.
Friday, September 1
It was a cool, overcast day as we started down to the coast. Our first stop was KrysuvikÕs geothermal area. There were many mud pots and some bubbling pools. The water was 200 degrees C ! There was a walkway and two lookouts and a trail that went up and around the area. <![if !vml]>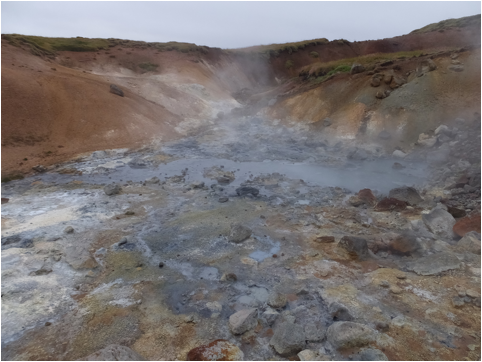 <![endif]>
Next we pulled off at Brimketill to see a sea ŌbathtubĶ eroded into the rock face. The waves came in with a lot of force there. It was a beautiful wild shore with pitch black lava.
<![if !vml]>
<![endif]>The Gunnuhver geothermal area was the next stop. The boardwalk went around the area. The first big steam vent was blowing boiling water up at a terrific rate – you could see an old boardwalk that had fallen into it.
<![if !vml]>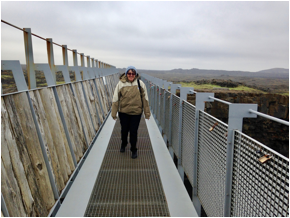 <![endif]>Further on we walked across the North America to Europe tectonic plates on a metal bridge. The gap widens a bit each year.
In Grindavik we searched the town for the Salt Fish Museum, ate lunch, and searched again, finally finding it. It had changed its name! There were displays explaining the volcanic nature of Iceland – lots of interesting information. The second section told about the industry of salting and drying cod for export and use in Iceland. It was a complicated process involving drying the fish in salt on the ground or racks at first.
<![if !vml]>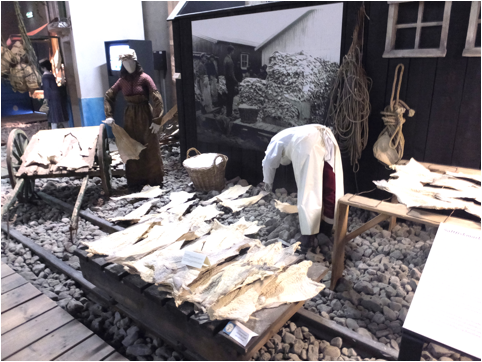 <![endif]>
<![if !vml]>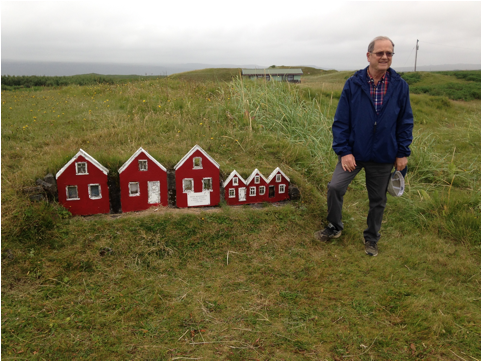 <![endif]>On the way back to Selfoss we stopped for a short hike in a lava field – the rocks were covered with moss. Our last stop was at the old church Strandskirka. They had a little set of building fronts for the elves. We walked up over a breakwater and watched the ocean waves. There were some seals in the water.
There was a lighthouse nearby that we tried to drive too, but the road was really rocking and full of holes – when it got even worse, Roger turned around and we went back to our B&B. Supper was at ŌSurf and TurfĶ and Joan had rack of lamb and Roger had horse tenderloin steak. Yes, horse. It is a relatively common meat to eat in Iceland, just not the rest of the world. <![if !vml]>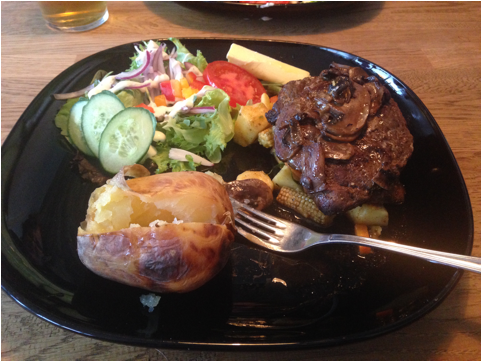 <![endif]>
Saturday, September 2
<![if !vml]>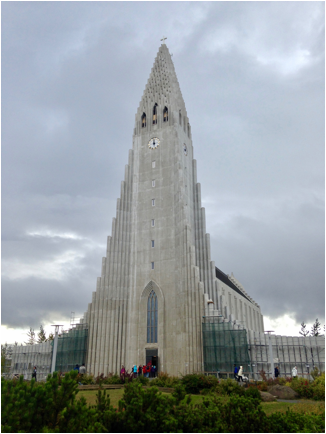 <![endif]>We woke to a rainy day with low clouds. We spent some time repacking. Today was our day to see the capitol, Reykjav'k. Our first stop was a huge white church in the center of the city called Hallgrimskirkja. The rain had stopped, but it was very windy and cold. This Lutheran church has a very high tower with an elevator and then four flights of stairs. At the very top were open air viewing windows – you could see 360 degrees –far even on a cloudy day The inside of the church was very tall and unornamented. There was an enormous set of organ pipes in the balcony. We walked across the street for a hot drink in a little cafŽ.
Our next stop was the Saga Museum. It had a statue of a Viking on a horse in front. It was set up with headset narration as you walked to dioramas. The figures were life sized and quite realistic. It told the story of the first settlers in Iceland – an interesting and brutal story that was later written as The Sagas. We tried on Viking clothing and got a photo. It started to rain again while we were inside.<![if !vml]>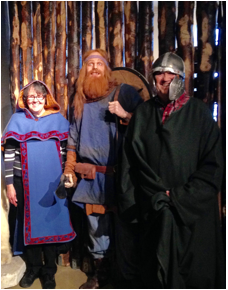 <![endif]>
<![if !vml]>
<![endif]>Our last museum was the National Museum of Iceland. It was a two story museum that tells the whole history of Iceland up to the present through artifacts and text. Thank goodness there was English text too. There was a large exhibit of religious items. There were many beautiful things -- many reminded us of Sweden.
On our way back we stopped for lunch in a small cafŽ and had lamb soup with delicious bread. It was very hazy and raining hard with a lot of wind. We made a quick drive through Hveragerdi and saw the geothermal areas from the car due to the weather.
Supper was pizza at Kaffi Krus – it was very good.
Sunday, September 3
There was light rain and mist as we left Selfoss going west to the village of Hveragerdi, known as the greenhouse village. We walked from a little park to see the pretty waterfall, Reykjafoss. The geothermal park in town was closed.
In the rain we headed toward Reykjavik, then south to Hafnarfjordur for a quick break. Our next stop was at Vikingaheimar (Viking World), a museum near Keflavik. It had a reconstruction of a Viking sailing boat – full size. It was set up so that you could go onto the deck. There was a very good video about Leif Erickson and the early settlers of Iceland and lots of displays. Lunch there was a bowl of lamb soup with bread. <![if !vml]>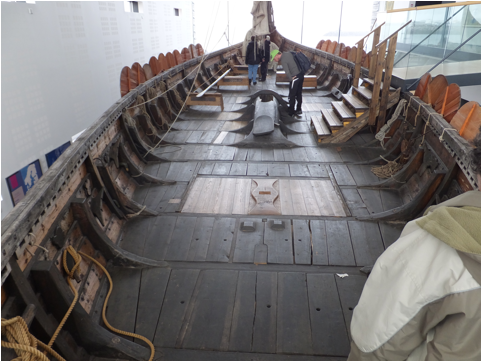 <![endif]>
<![if !vml]>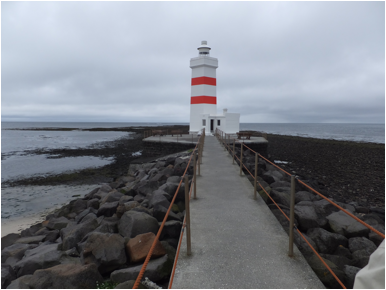 <![endif]>We decided to go to the southern tip of the peninsula to see the two lighthouses at Gardskagi. The largest was donated to Iceland as a thank you. In 1942 local fishing boats rescuedf the crew of a Coast Guard boat that was torpedoed by a German U-Boat. There was a nice sandy beach on the sheltered cove to the north and many rocks to the south.
Back in Hafnarfjordur we ended up our trip staying in the same B&B where we started.
Monday, Sept 4
A cool and cloudy day, we packed to go to the airport. We walked downtown just to get out and get some fresh air. At the airport, we turned in our car and then ate lunch – a pizza and hamburger. We couldnÕt get to our gate, so we sat on some wooden benches with bent slats – not comfortable. When we got to our gate the flight before us was finishing loading, so we went up the stairs and sat down. Roger left, the staff left, and Joan was alone. A security guard told Joan she couldnÕt wait there, so she had to go back down with him in the elevator. Roger had been locked out of the upper gate, and had Joan paged, but she hadnÕt heard it. Finally he came back to the gate.
It was a nice six hour flight – without turbulence. Lola & Dale picked us up and we stayed over at their house. Linda stopped in the next morning and brought us corn and corn bread.
MUSINGS:
What a wonderful country to visit. The geographic diversity they have is amazing. Late August/September was a nice time to visit. The crowds were less, and the temperatures were still moderate. The people were very friendly, and almost everyone spoke English. Most printed material, including menus, also had an English version. Food, and everything else was expensive. Gas was about 2 dollars a liter, or about 7 dollars a gallon. We went on one piece of highway that was four lane, all the rest were two lanes, and often very narrow. It was some of the most beautiful country we have seen. Food was delicious, and we tried some things we hadnÕt had before. It was, as we agreed, a trip of a lifetime, and chances are great we will not return, but we are very glad to have had the experience. There are lots of roundabouts and yield signs, and stop lights in the cities but ŌSTOPĶ signs were very rare.
This gives you an idea of the size of Iceland compared to Minnesota.
<![if !vml]>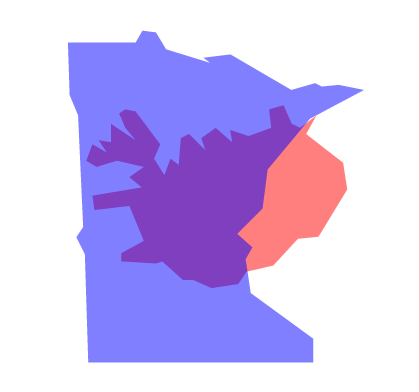 <![endif]>