<![if !vml]>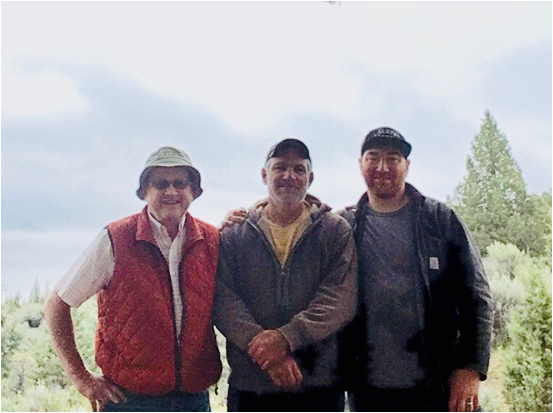 <![endif]>
California and Oregon
May 19-24, 2018
Roger, Mike, and Tony
<![if !vml]>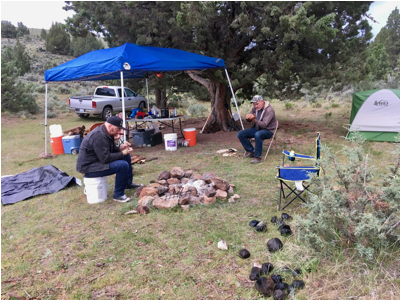 <![endif]>
It was a five-day trip to California and Oregon. One day was spent getting to California, another day was spent getting back home. One of the remaining three days were spent driving 500 miles to Oregon, and another day was spent driving from Oregon back to California.
That left one full day to do what we wanted to do: collect as much obsidian as we could.
We got to Glass Buttes in the late afternoon. If you want to look it up, itÕs about 40 miles west of Burns, Oregon.
<![if !vml]>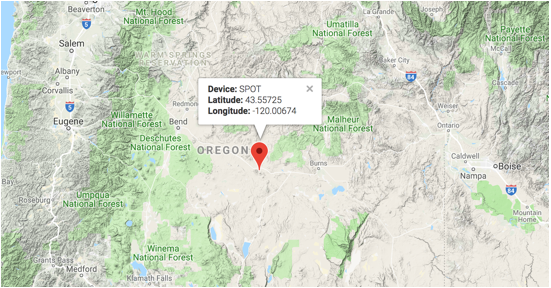 <![endif]>
With me on the trip were Mike and Tony. This was the 9th trip that I have flown out to meet Mike and Lauri, and they, again, were terrific hosts. We picked Tony up on our way north.
Tony is a tattoo artist from the Sacramento area, and has a keen interest in flintknapping and primitive skills, and is extremely knowledgeable. Mike, of course, as an archeologist and a flintknapper, has an amazing amount of knowledge too, so I learned a lot on this trip.
Glass Buttes is known for the many varieties of obsidian that are found so closely together. IÕm sure several thousand <![if !vml]>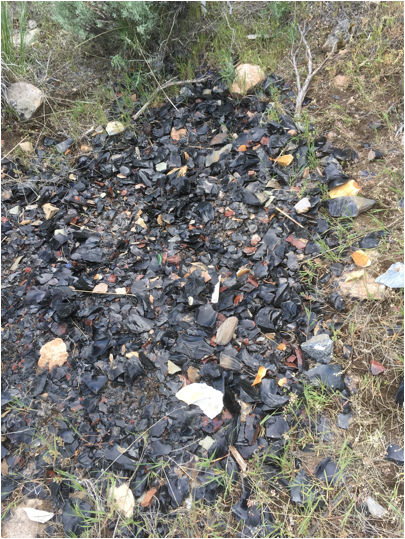 <![endif]>people have visited this area over the years, and many of them, since prehistoric days, have broken open the pieces to see whatÕs inside, and done their flintknapping right on the site. Obsidian flakes are everywhere.
As you may recall from my last visit to California, and a visit to Grizzly BearÕs Hiding Place http://www.rogerwmanderson.com/grizzlybears2017.htm
I told Mike at that time that I was giving up camping. ItÕs just too hard on my back, and I sleep fitfully. I told him to give away my tent and backpack and all the things IÕd used, and next trip, we could hike all we wanted, but I wanted a soft bed in the evenings.
Well, that didnÕt work out so well. It seems that Glass Butte is about 50 miles from the nearest motel, and that motel has a Ôone starÕ rating. So camping out it was.
We found a very nice campsite, and because we had MikeÕs pickup, we could bring a few more amenities than we could if we were backpacking. So a table, chairs, large tarps in case it rained, all made it a bit more comfortable. And it did rain, sporadically, most of the time we were there.
<![if !vml]>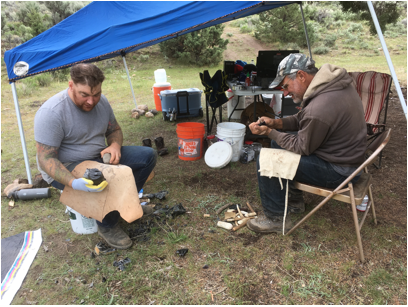 <![endif]>
<![if !vml]>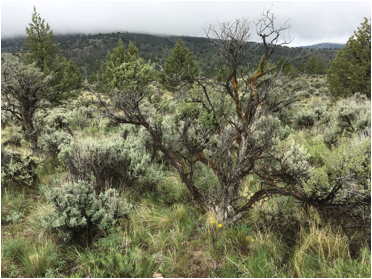 <![endif]>
We did some collecting of obsidian later that first afternoon. It was ubiquitous, as I had said earlier.
This was much more of a desert climate, and the main foliage was sagebrush and Juniper trees.
<![if !vml]>
<![endif]><![if !vml]>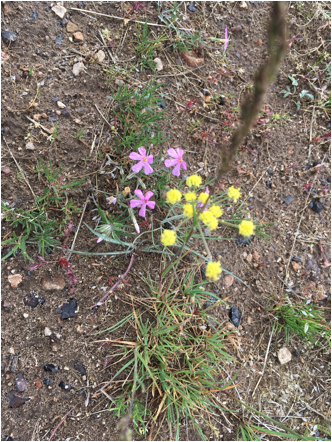 <![endif]>
<![if !vml]>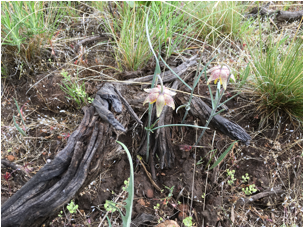 <![endif]>
There were also many beautiful wildflowers in the area.
After a delicious breakfast, most of the next day was devoted to looking for various kinds of obsidian. It rained off and on all day, but there were lots of varieties to be found, and a few hundred pounds were collected in various sizes and colors and hues including pitch black.
<![if !vml]>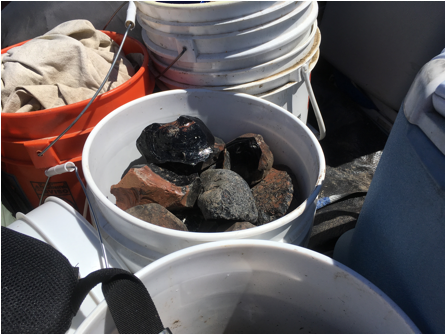 <![endif]>That evening both Mike and Tony did some flintknapping, and I was the lucky beneficiary of a point from both of them. <![if !vml]>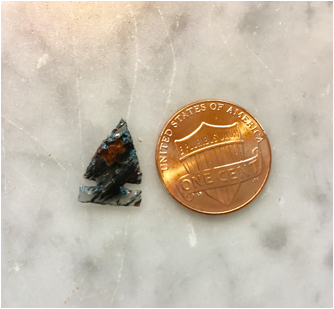 <![endif]>Tony made the tiniest of points that has amazing detail.
<![if !vml]>
<![endif]>Mike made a beautiful point out of pink obsidian. I have them framed together in a specimen frame as a memento of the trip.
We packed up the next morning and were on the road by 8:00 AM for the long drive back. We headed to Chico and our evening meal to meet with Richard and Andy and Jill whom I had met several times before. We ate at the Sierra Nevada Brewing Company in Chico, which has become kind of a tradition.
Then it was back to Sacramento, and dropping Tony off, and then to Mike and LauriÕs to clean up, pack, and head to the airport at 4:00 AM.
<![if !vml]>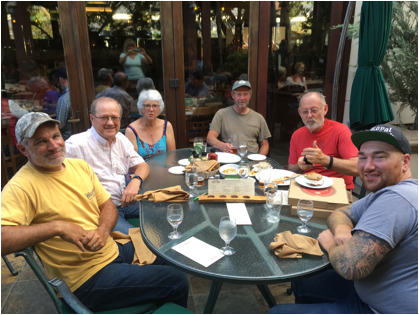 <![endif]>It was a lot packed into a few days, but some memorable times and some quality time with wonderful friends.
<![if !vml]>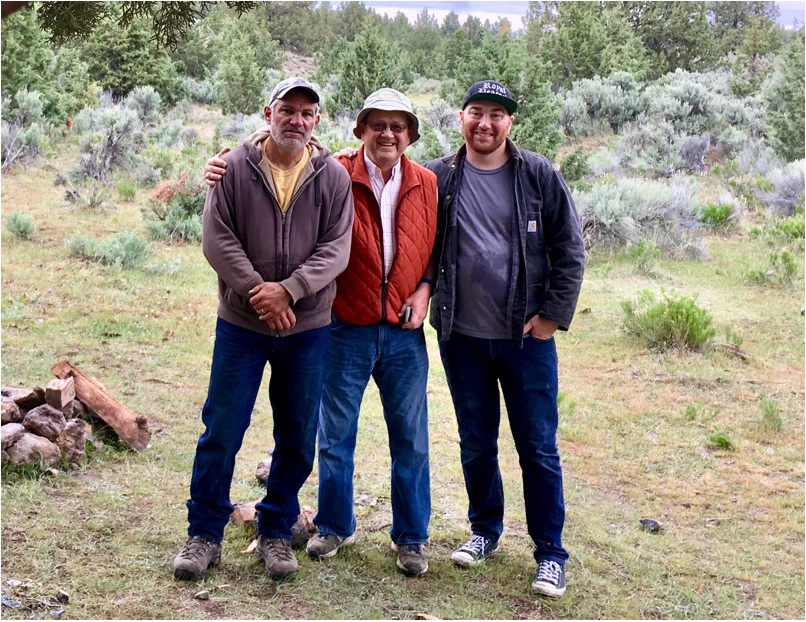 <![endif]>
ÒGeorge GrayÓ
(speaking from the grave)
ÒI have studied many times
The marble which was chiseled for me—
A boat with a furled sail at rest in a harbor.
In truth it pictures not my destination
But my life.
For love was offered me and I shrank from its disillusionment;
Sorrow knocked at my door, but I was afraid;
Ambition called to me, but I dreaded the chances.
Yet all the while I hungered for meaning in my life.
And now I know that we must lift the sail
And catch the winds of destiny
Wherever they drive the boat.
To put meaning in oneÕs life may end in madness,
But life without meaning is the torture
Of restlessness and vague desire—
It is a boat longing for the sea and yet afraid.Ó
-Edgar Lee Masters in
Spoon River Anthology