May 16-23rd, 2019
Ishi and California
Each trip I have made to California in connection with the Ishi story has been unique. This year was no exception. I did things this trip that I have never done, and probably will never do again. That included a ride in the back of a massive WW II Chevy heavy artillery carrier that jostled us around on what looked like an impassable trail, visiting a cave that had 200 steps down, and what seemed like 500 steps back up.
<![if !vml]>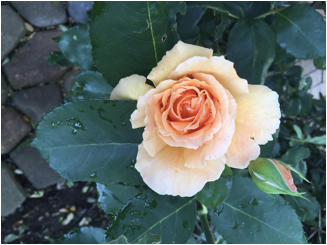 <![endif]><![if !vml]>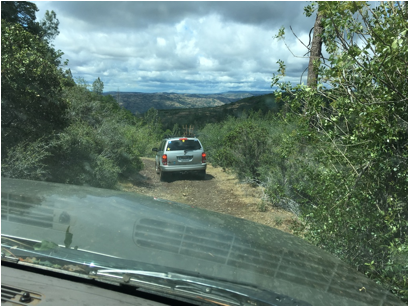 <![endif]>My sister, Lola, was kind enough to take me to the airport the morning of May 16th, and I had a smooth flight to Sacramento. Mike picked me up at the airport, and we had a bite to eat at a Mexican restaurant in Citrus Heights. The weather was overcast and cool, not much different than I had left in Minnesota. After a delicious supper of grilled chicken, we packed and got ready for the trip to the Ishi Wilderness and staying in a cabin on its edge. Mike's wife, Lauri, came along.
We picked Richard up in Chico. Richard has been with me on most of my trips, and is the one who encouraged me to visit him on my first trip in 1996.
We stopped at Bob's home in Cohasset to pick up the other part of the group and their vehicles. There were seven of us in all.
<![if !vml]>
<![endif]>
The road into the Ishi Wilderness is long and rough. This year was as wet and muddy as I have ever seen it. We bumped and splashed our way to the ridge where the road to the cabins heads off. There are several locked gates to access the cabins after an even rockier and wetter and bumpier ride.
We came to Bob's cabin first, and Floyd's cabin was a bit further down the trail. You can see Floyd's cabin in background, with Floyd in the foreground.
The weather was not the most cooperative. It had rained earlier, so there was mud, and it was cool. We decided that the hike to "Ancestor Cave" was the main agenda for the trip, and maybe it should be done immediately in case the weather worsened.
We drove to Floyd's cabin where he had a World War II Chevy truck that was used for hauling heavy artillery. Unfortunately, the battery had gone dead, but this was not going to deter Floyd. After some work, the vehicle was pulled to a place where Floyd could go downhill, pop the clutch, and get it started.
<![if !vml]>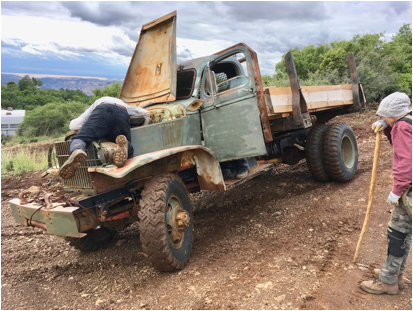 <![endif]>
In the photo, you can see Floyd diving under the hood to make some adjustments to the engine. That is Bob, who owns the other cabin, on the right.
He got the vehicle running, and we all walked a plank to get into the back of the truck. There were no amenities in the back, it was pretty much just find something to hang onto, and watch your head for low hanging branches
<![if !vml]>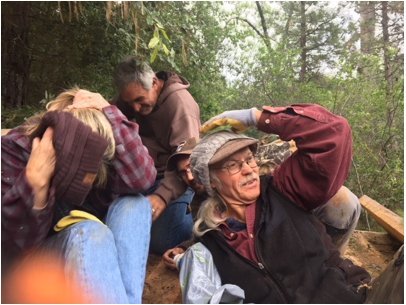 <![endif]>
The ride down about a thousand feet was one of the most exciting things I did on the entire trip. The ruts and gullies and large stones on the road, as well as the brush on each side, with little to hang on to, made it quite exciting! Combine that with absolutely amazing country and the views made it a unique experience.
The picture shows Bob, Mike and Lauri ducking down to miss the brush.
The video gives you a little taste of the trail:
http://rogerwmanderson.com/truck.mov
About 1,000 feet down, and maybe a half mile drive, the road stops. Floyd parked <![if !vml]>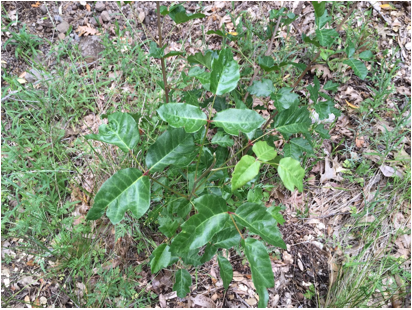 <![endif]>the vehicle on a hill so that he could roll down and pop the clutch again when we wanted to go back. We started the walk toward "Ancestor Cave" and soon it became rougher, filled with poison oak, and brushier. Because of the wet year, the poison oak was ubiquitous, even more so than other years. Some folks in the group, including Lauri and Richard are very susceptible to it, but luckily, no one got it.
While Richard is game for anything, including a tough hike like this, his body feels differently. His knee injury and replacement, has really slowed him down, and it became obvious that, at the speed we were going, we would not reach the cave and have time to get back to the cabins before dark, and the truck did not have lights.
<![if !vml]>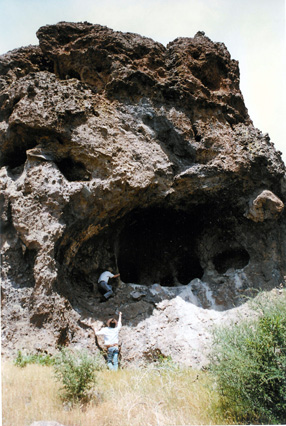 <![endif]>
Richard and I had been to Ancestor Cave in 1997, so it was not a new discovery for us, so I decided to stay back with Richard so the others could make it to the cave and explore it a bit.
<![if !vml]>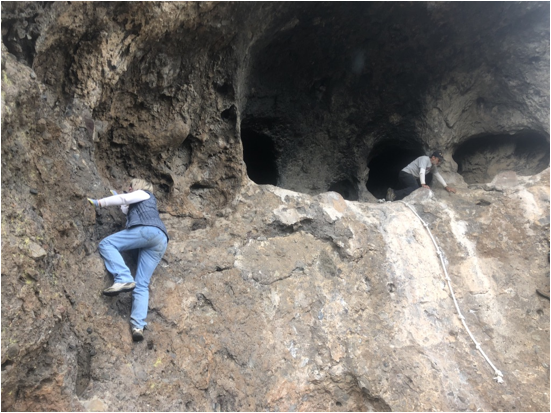 <![endif]>The picture on the left is me climbing in to the cave in 1997, and on the right it is Lauri in a very similar place.
The cave had been inhabited for thousands of years, and, unfortunately, recent visitors had moved in with tarps and food and garbage, and pretty well left it a littered mess. It was probably pot growers and users who like the isolation of the area. I was glad to have seen it when it was pristine.
Soon, the group returned to the truck where Richard and I were waiting, Floyd got the truck going, and we headed back to the cabins.
It was very cool, verging on cold for the evening.
<![if !vml]>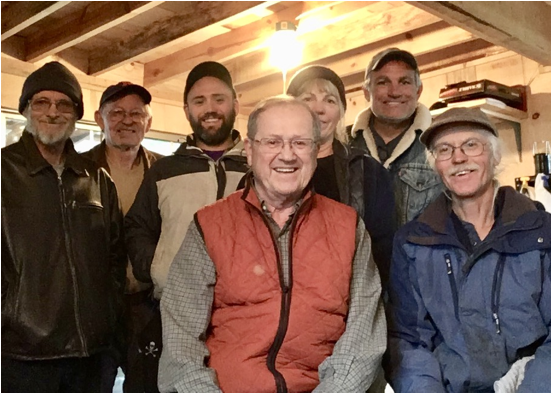 <![endif]>
This is the group on the trip: From the left, Floyd, Richard, Jesse, Roger, Lauri, Mike, and Bob. Jesse is Bob's nephew.
We discussed the weather the next morning over breakfast with the knowledge that there was more rain on the way later in the afternoon, and it was agreed that we had better cut the trip a day short in order to ensure that we could get out on the already bad roads.
<![if !vml]>
<![endif]>
It had been an eventful trip already. Floyd and Bob had been in the area for about 40 years, so their knowledge of the area was amazing. Mike and Richard were also knowledgeable, so it was fun and enlightening to listen to them.
<![if !vml]>
<![endif]>
They had made a small monument to Ishi and his tribe, the Yahi. We left a few little offerings on it. In the distance, one could see "Grizzly Bear's Hiding Place" where I had gone just a couple years before in one of my more memorable trips.
<![if !vml]>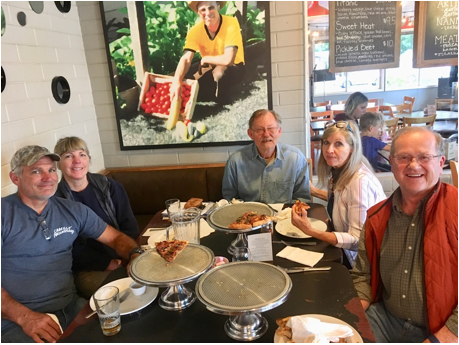 <![endif]>
We headed back to Chico, and Dianne, Richard, Lauri and Mike, and I went out for pizza and a nice visit. From there, Lauri, Mike, and I headed back to their home in Citrus Heights. They have two Golden Retrievers, Fihn and Emma, and the dogs were very happy to see them.
The next day was cold and rainy, and hard to do anything outside. It was a good day to recover from the previous day.
.<![if !vml]>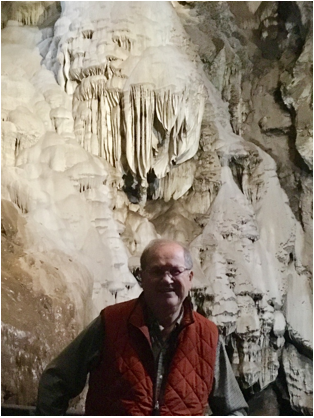 <![endif]>
Sunday was much nicer even with a little sun, so we headed to a state park named "Moaning Caverns" near Angels Camp. It was a limestone cave, and quite old. A human skull found there was dated as 12,000 years old. The cavern was small, but deep. There were around 200 steps to get to the bottom. It seemed like that number doubled or tripled coming up the same steps. We stopped at a winery near Angels Camp and did a <![if !vml]>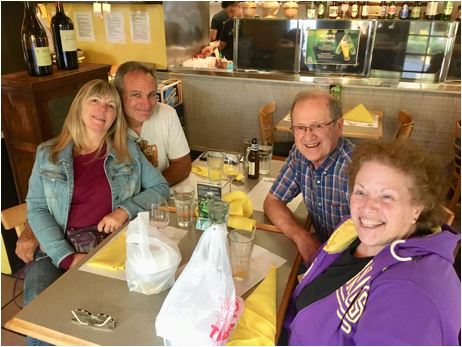 <![endif]>wine sampling, and I bought a bottle to bring home.
That evening we went to visit Karen before taking her with us out to eat a Thai restaurant. I hadn't met her before, though Mike had talked about her several times. She had me right away when she showed up at her door in a Vikings jacket.
Karen lost her part of her sight when she was a young adult, and the rest of her sight when she was an adult, and she's pretty remarkable. She does a darned good Minnesota/Wisconsin accent (which I know we REALLY don't have, right?) and it was a very enjoyable evening. Mike and Lauri have known her for about 13 years.
The next morning, bright and early, Mike and I headed back toward Chico to spend a little more time with Richard. Richard is the person I cannot thank enough for encouraging me to visit in 1996. Goodness, where that has led and the adventures I have had and the wonderful people I have had a chance to get to know! His knowledge of the story of Ishi and the Yahi is probably greater than anyone else in the world.
<![if !vml]>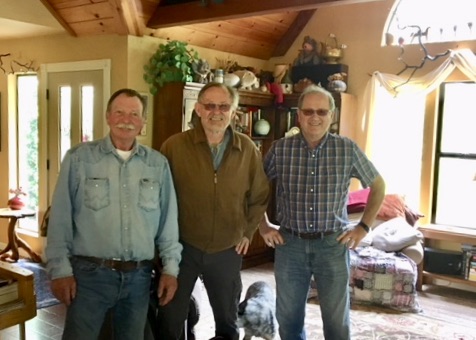 <![endif]>We arrived around 9:15, just before Dianne headed for work, and talked about a number of topics I really wanted to get out to see a fellow named Pete Moak whom I had met a couple times before, and had stayed a night in his "barn" which was more like a finished room with a bed in it.
His family was among the first families in the area, and had settled in the early part of California pioneer history. His knowledge of the area, and of the history is like no other. Not only that, he's the nicest of guys. He's also a bit of a hero for all he did during the Camp Fire last <![if !vml]>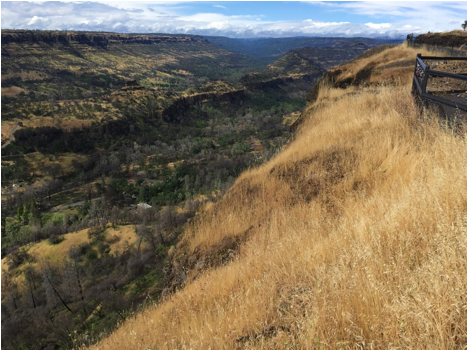 <![endif]>summer, but he's too humble to talk about it. The fire came very close to his property, but they were prepared for it.
This is basically the same fire that destroyed the city of Paradise. We drove back through Paradise, which I had been in a couple times before and it was devastated. It was also devastating to see. Richard was very familiar with the area, but had a lot of trouble trying to figure out where we were because everything looked so different. He was pretty torn up about what we saw.
<![if !vml]>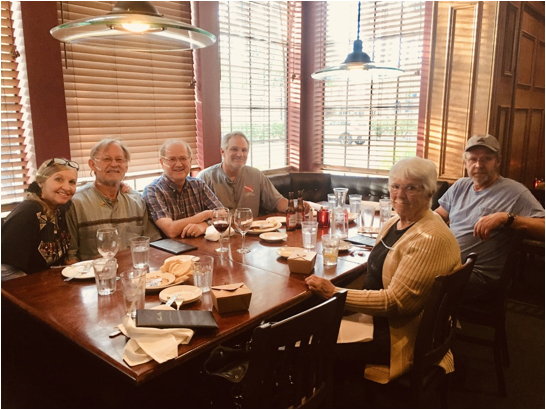 <![endif]>
We headed back toward Chico with plans to meet some more folks that I really like and enjoy, Jill and Andy Mark. We met them in an Italian restaurant, and had a nice visit. I have met them several times, and spent some time in their lovely home. If you want to know something about rocks and minerals, and the ancient history of the land, these are the folks to talk to.
They are to the right of the photo.
We headed back to Richard's house for some ice cream and conversation. Mike and I stayed the night there, and had a great breakfast that Dianne prepared of some of the best blueberry pancakes I ever had. She even had Spam to go with it! Mike and I told them about the Spam museum in Minnesota.
<![if !vml]>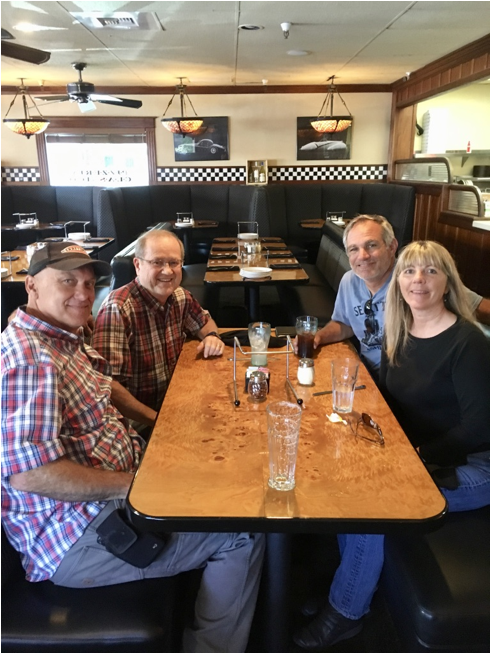 <![endif]>
About 10:00 A.M. we headed back toward Citrus Heights by way of Folsom so we could have lunch with Bob Price. I had also known Bob since my first trip out 23 years ago, and have been on lots of adventures with him.
He has four kids now, and a lovely wife, and has been doing a lot of work for his mom in the real estate business since his retirement. I hope to be able to spend more time with him once his life settles down a bit. <![if !vml]>
<![endif]>
I took Lauri and Mike out to eat the last night to both celebrate 10 years of friendship and to thank them for all they do for me when I visit.
I had an early flight the next morning made a bit more exciting by the fact that both Mike and I overslept a bit, but I made it to the airport in plenty time, and had a nice flight home.
<![if !vml]>
<![endif]>